Did "Biggest Loser" Winner Lose Too Much?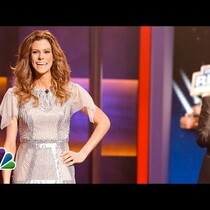 Posted February 6th, 2014 @ 4:40am
This is a delicate subject and opinions will vary but as I sit here putting up my posts- the story is everywhere online- I figured it was worth blogging about today.
I did not watch this season of "The Biggest Loser" but when I clicked on the story and saw winner Rachel Fredrickson's new physique- I couldn't believe it. At 5' 4" Rachel went from 260 pounds...to 105.
Having watched past finales of the show, during the final reveals, I've found myself tearing up and feeling genuinely happy for the contestants who've worked so hard for their weightloss.
However, when I saw Rachel, my first thought was..."Wow, she looks REALLY skinny."
Inspiration💪 #rachelfrederickson http://t.co/TB8TS4Zqrn

— Ana G. Barahona (@anageebee) February 5, 2014
I hope that doesn't come across catty- that's not my intention. As I read more of the article, someone did the math and found that she is now underweight, according to standard BMI calculations
. (I understand that these standard calculators are not accurate for everyone)
Without tearing this woman to shreds or being mean- what do you think? Did she lose too much weight? Is the show responsible for keeping these contestants healthy? What was your reaction to seeing Fredrickson's before and after pictures?
Click here for the full article.
Zap2it.com
Photo courtesy of Facebook