Pricey Leggings Claim Cellulite Reduction, Anti-Aging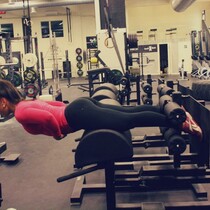 Posted January 6th, 2014 @ 8:53am
Last year, I bought a pair of Zaggora workout pants using a Groupon. I thought they were pretty expensive at $100. I think I paid $59 with the coupon- they were worth every penny. They resemble scuba gear and are super warm for those rare winter days when I venture outdoors for my run.
(A random picture of a lady in workout pants. Click here to see Proskins.)
Although these new workout pants are promising incredible things- at $200- I'm going to pass. Proskins, a British company, weaves 24 carat gold into the yarn of their leggings.
According to the Web site, the compression leggings use gold "nanoparticles," a "revolutionary new anti-aging beauty treatment" that "reduces the appearance of aging, skin cells increase Hyaluronic Acid production and therefore, the skin gets moisturized, avoids wrinkles and recovers its youth and elasticity."
Would you try them? Apparently, people are shelling out the money- The leggings are selling so well that they are out of stock but available through a 14-day pre-order. (Good Morning America)