Brantley Gilbert's Polar.... Challenge?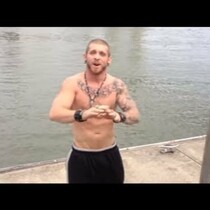 Posted March 25th, 2014 @ 8:09am
Brantley Gilbert was given he challenge of taking a plunge into a cold lake... Here's the thing, I don't think it counts. Us true cold-weather folk know that a real polar plunge involves jumping into a FROZEN body of water. But, I did enjoy the bonus of him taking his shirt off ;).
WARNING: Strong Language