A make-out practice pillow?!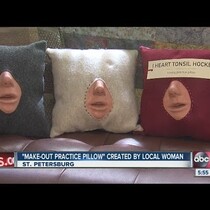 Posted February 16th, 2014 @ 3:45pm by Levi
If your kissing skills are a little rusty, or if you just want to maintain your creepiness factor, we suggest you invest in a "Make Out Practice Pillow."
These couch furnishings are the brain child of Florida-based designer Emily King, who wanted to bring the idea of people practicing making out with their pillow to life. Admit it, we all did this as a blossoming teenager...right?
King basically cut the area around the nose and mouth of CPR dummies and sewed them onto pillows, thus creating the quirky, creepy design.
You want one? It'll set you back about $31. Check them out...