Student's April Fools prank on professor may be the best ever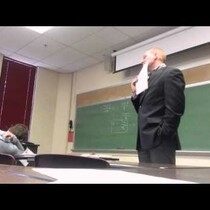 Posted April 7th, 2014 @ 11:10am by Levi
I know we are about a week past the whole April Fool's Day pranks and all, but this one I just had to share.
This professor has a policy that if your phone rings in class, you must answer it on speakerphone. It was the perfect opportunity to prank him!
Students at Aquinas College in Grand Rapids, Mich., organized the prank. However, the Macroeconomics professor was a great sport.