WATCH: 10-year-old girl with Muscular Dystrophy petitions American Girl to make a doll exactly like her.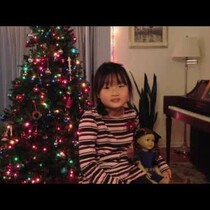 Posted February 5th, 2014 @ 5:33pm by Levi
Like most 10-year-old girls, Melissa Shang loves American Girl dolls; unfortunately, she can't get her doll to look exactly like her – because she has Muscular Dystrophy and American Girl doesn't feature any disabled characters. So Melissa and her older sister took to the internet, made an adorable video directed at the toy company and started a petition to change the face of American Girl.
It's no wonder the petition already has 130,000 signatures. See Melissa's touching video below.
American Girl hasn't responded to the petition yet.
(Source: Buzzfeed)