WATCH: 2 guys climb to the end of a crane atop the world's 2nd highest skyscraper!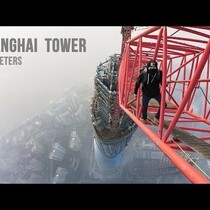 Posted February 13th, 2014 @ 11:24am by Levi
OMG! Why would they do this!?! If you are afraid of heights, this may be a little difficult for you to watch. I couldn't even make it through the whole thing.
A few weeks ago, two men were traveling through China with the goal to reach the top of the Shanghai Tower, a building only shorter than one other in the world.
They succeeded! Check it out...
Would you ever do something like this?